Recently, DolphinDB has partnered with Amazon Web Services (AWS) and officially launched on AWS Marketplace in the overseas region. Global users can discover and subscribe to the service by searching for 'DolphinDB MGR' in the overseas Marketplace. This launch is DolphinDB's latest move to meet the growing cloud-based business demands of its customers and to advance its global market strategy.
DolphinDB MGR is an automated operation and maintenance system for DolphinDB clusters deployed on Kubernetes. By launching on Amazon Web Services Marketplace in the overseas region, DolphinDB provides customers with full lifecycle management, including deployment, upgrades, scaling, and configuration changes.
Currently, DolphinDB MGR on AWS supports clusters running on Amazon Elastic Kubernetes Service (Amazon EKS). Through this managed service, users can easily run Kubernetes on AWS without the need to maintain the Kubernetes control plane themselves. Additionally, users can seamlessly migrate any DolphinDB MGR service to Amazon EKS.
DolphinDB, as a leading time-series database vendor, integrates high-performance time-series database capabilities with comprehensive analytical functions, which can be used for storage, query, analysis, and real-time computing of massive structured data, realizing millisecond response for PB-level data query and second response for complex analytical tasks, and assisting enterprises in real-time business decision-making.
As of October 2023, in the rankings of the internationally renowned database ranking website DB-Engines, DolphinDB is ranked sixth in the global time-series database category.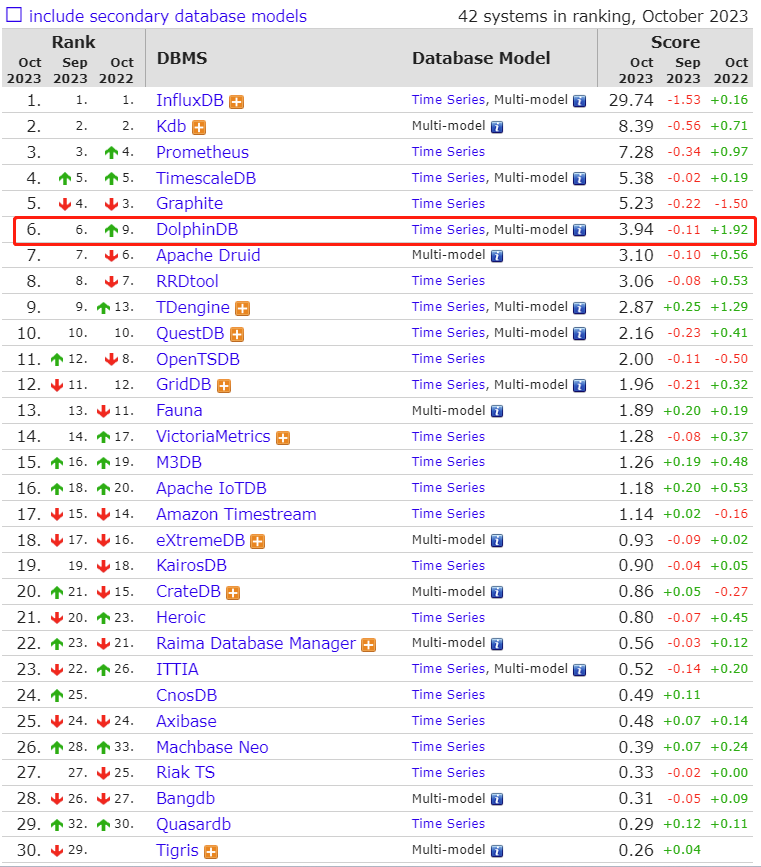 In addition to its influence within the community and ecosystem, DolphinDB has also gained widespread recognition in the business domain. DolphinDB's paying clients span across Europe, the Americas, Australia, China and other regions. Its clientele comes from various sectors, including finance, energy, smart manufacturing, telecommunications, chemical engineering, water management, marketing analytics, and smart cities. DolphinDB empowers enterprises to efficiently extract value from vast data, particularly real-time data, enabling real-time monitoring and control of business systems, which supports enterprises and users in making real-time business decisions.